One of the most recent marketing tools I've found is online gaming. Similar to the exposure techniques of Facebook and other online networking, this allows for potential customers to recognize your business and view special promotions.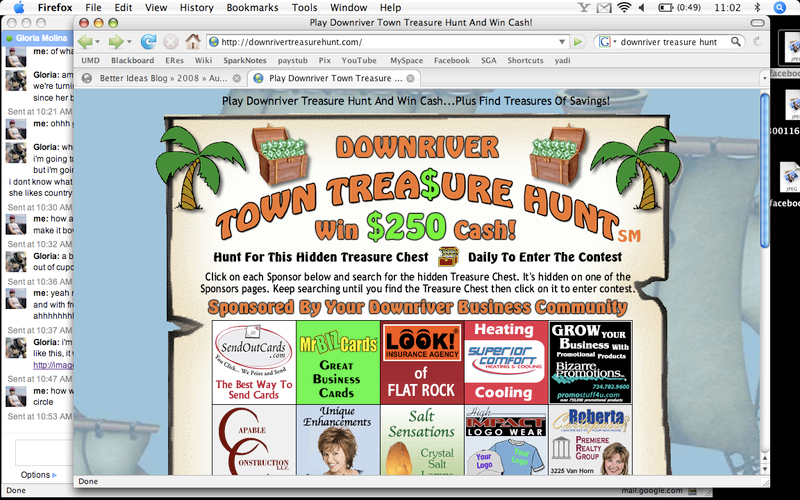 An example of this type of gaming is http://downrivertreasurehunt.com . This site offers clients the opportunity to play a game with the ultimate prize being $250 in cash. All the player has to do is find the hidden treasure chest in a map filled with business ads. By clicking on the ads it then leads the player to a page listing that business' information along with tempting special promotions and coupons. The players become familiar with your business because they need to remember which businesses were already chosen because the ads keep moving positions. The number of clicks is unlimited so you can be getting several hits a day.
As the sponsor page states on the site:
"Town Treasure Hunt is the Hottest online game that thousands of consumers are visiting and playing every single day!
What makes it so unique? They're searching through every sponsors ad page every day looking for the hidden treasure chest.
What makes it so powerful for Your Business? They are looking at your sponsor ad page every single day.
For only $25 a month, your business can get all of this exposure and key client information. Such information is provided by the client while filling out the free entry form to win the money after finding the chest. Where most newspaper and other media ads cost ten times that much for one time exposure, this ad is up and running all day and night for 30 days.
The site draws over 50,000 hits per month right now and it's just getting started.
Interested? Visit www.downrivertreasurehunt.com for more information on becoming part of this unique and traffic driven form of advertising that makes customers actually WANT to look at your ad! Hey it's your ad dollars, why not see if it will generate some actual business for you!
My Best,
Kathy Kane
Market Insights